About Tim: Having been raised on a small farm in rural Ireland, I feel very fortunate to have had the opportunity to learn of the wonderful bounties that the land has to offer. Since a young age, I've considered it one of the greatest gifts in my life to be introduced to natural foods that came straight off the land while my taste buds were still developing.
Today, living in Wisconsin, I feel very honored to be surrounded by chefs, small farmers, and restaurant owners who share this same passion. When I first came up with the idea to post barbeque recipes and other outdoor cooking methods to my website, it was with the hope that when we create a new outdoor living space for our customers, they can go straight to my website and pick a recipe to try in their own outdoor haven. I wanted to post recipes that support local and sustainable agriculture, while featuring those in the community whose philosophies reflect the values I hold dear. Cheers!
________________________________________________________

Kevin Dundon – Featured chef
About Kevin: Kevin Dundon is the Chef/Proprietor of Dunbrody Country House Hotel & Restaurant, located in Ireland's sunny South East. Dunbrody was established in 1997 by Kevin and his wife Catherine. It is now considered to be one of Ireland's Premier Hotels & Restaurant. Kevin oversee a cookery school at the hotel which is already recognized as one of the most respected in the country.
Kevin has steadily built his media profile and has appeared on numerous TV channels including ESPN Cable, CBC (Live) Canada, UKtv Great Food Live, BBC1s Saturday Kitchen, RTE (Live) the Today Show, TV3, Utv as both Chef and panellist. He is also a regular on Irish radio. His nine part prime time Cookery Show–Modern Irish Food with Kevin Dundon aired on both RTE1 Ireland and PBS in the US and was nominated for three American Taste TV awards, the highest awards for the Lifestyle Entertainment Industry in the US.
Featured Recipe:
Kevin's Classic Beef Burger with Red Onion Marmalade
Recipe from Kevin Dundon, owner and Executive Chef of Dunbrody House in Wexford, Ireland.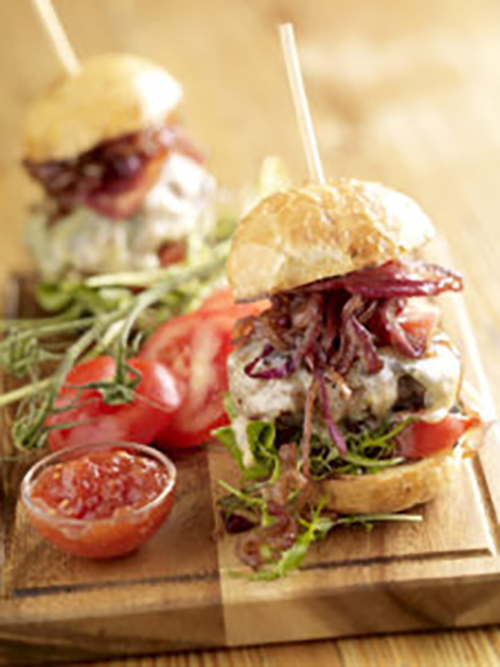 For the burgers- Ingredients:
1 ½lb/700g Lean Minced beef
2 Spring Onions
2 cloves Garlic
2ozs/50g breadcrumbs
2ozs/50g Wexford Vintage Cheddar (grated)
1 large egg
4 – 6 Slices Wexford Cheddar
6 Slices Streaky Bacon (grilled)
2 Tomatoes
1-2 dessertspoons freshly chopped herbs (parsley, thyme etc)
Seasoning
Pinch Cinnamon
1 dessert spoon Tomato ketchup or Sweet chilli jam (optional)
1 tbsp Olive Oil
Mixed Salad Leaves
Carmelized Onion Bread Rolls to Serve
Preheat the barbecue. Put the minced beef into a large mixing bowl and add in the finely diced onions and garlic. Mix in the breadcrumbs, grated cheese and chopped parsley together with the tomato ketchup and add a pinch of cinnamon. Season the mixture with a little salt and pepper. Add in the egg and mash the mixture together with your hands using the egg as a binding agent.
Divide the mixture into 8-9 pieces and using a little plain flour shape them into your desired shapes about ½ inch thick. Allow to rest in the fridge for at least 30 minutes. Brush the burgers with a little oil to prevent them from sticking to the barbecue, cook on each side for 4-5 minutes.
You can cook the burgers in their entirety on the barbecue or transfer the burgers to a baking sheet and put them into the preheated oven for 8–10 minutes until they are fully cooked. In the meantime drizzle the halved bread rolls with olive oil and toast lightly on the barbecue. Immediately add the burgers, cheese slices and build your own burger adding the tomatoes, streaky bacon and mixed salad leaves as required.
Red Onion Marmalade:
4 Red Onions
50g Brown Sugar
50mls Red Wine
50mls Red Wine Vinegar
Thinly slice your red onions and sauté off over a moderate heat. When they are nicely browned, add in some brown sugar and allow to caramelize. Add red wine and red wine vinegar and allow to cook out to a sticky consistency.
Side Dish Recipe:
Broccoli and Potato Salad with Smoked Bacon and a Shallot vinaigrette
Recipe from Kevin Dundon, owner and Executive Chef of Dunbrody House in Wexford, Ireland.
Ingredients:1 head broccoli
16 baby potatoes
200g dry cured smoked streaky bacon joint
3 shallots thinly sliced
3 tablespoons balsamic vinegar
2 tbsp olive oil
1 lemon juice
1 tablespoon chives
salt and pepper
METHOD
Preheat the barbecue to medium heat. In a large saucepan, place the potatoes and smoked streaky bacon joint. Bring to the Boil for 12 -15 minutes until just tender. Remove from the heat and allow to cool in a colander.
In the meantime, prepare the dressing. Mix together the vinegar, lemon juice, shallots and 1 tbsp of olive oil. Stir well, and add salt and pepper.  Slice the broccoli into flat florets. Place on a flat tray and brush them with olive oil, salt and pepper. Place them on a hot barbecue for 2-3 minutes until chargrilled on both sides, then remove into a large bowl.
Meanwhile, when the potatoes have cooled slightly, slice them into rough chunks and add to the broccoli. Slice the streaky bacon in small lardons. Heat a frying pan and cook the smoked lardons in a little oil until crispy and add them in the bowl with the broccoli and the potatoes. Drizzle the dressing over and carefully shake the bowl once or twice. This will help the broccoli and potatoes to absorb the dressing. When cooled add the chives and check the seasoning. Serve warm or cold.
Dessert Recipe:
Chocolate and Raspberry Pavlova
Recipe from Kevin Dundon, owner and Executive Chef of Dunbrody House in Wexford, Ireland.
Ingredients:
150g egg whites
300g caster sugar
1 tbsp cornflour
1 tsp white wine vinegar
50g finely chopped dark chocolate
250ml cream
50g mascarpone
3 tbsp icing sugar
25g cocoa powder
400g raspberries, to serve
150g Chocolate ice cream 
METHOD
Heat oven to 120˚C and line an oblong baking tray (13 x 9 inches/33 x 23cm) with parchment paper
Place the egg whites into a spotlessly clean mixing bowl (preferably use a food mixer) and beat on a light speed until beginning to become foamy, then while beating slowly pour the caster sugar, a little at the time.  When all the sugar has been incorporated, the cornflour, vinegar and whisk until incorporated. When ready the mixture should be glossy and when the bowl is turned upside down the mixture should remain stationary in the bowl. Fold the chopped chocolate and pour the mixture in a circular shape on the prepared tray.
COOKING
Bake in the oven for 1.30 hour until the meringue mixture is very firm to touch but still soft in the middle.   I normally leave mine to cool in the oven with the door ajar.
When ready to serve, whip the cream, mascarpone and icing sugar together in a bowl until soft peaks form.. Spread the cream mixture over the pavlova, sprinkle with cocoa powder and fresh raspberry. Finish by adding a few scoops of chocolate ice cream. Serve immediately.
________________________________________________________
Tory Miller – Featured chef
About Tory: Tory Miller, Co-owner and Executive Chef of local restaurants L'Etoile and Graze, shares one of his favorite BBQ recipes with Quigley Decks & Fence. L'Etoile has been a pioneer in supporting local agriculture since the '70s, and has been a beacon of inspiration in the fostering of farm-to-restaurant relationships in Madison and beyond.
Recipe:
BBQ Pork Shoulder & Spare Ribs with Macaroni & Cheese

Recipe from Tory Miller, owner and Executive Chef of L'Etoile in Madison, WI
For the Pork Rub – ingredients:
1 cup brown sugar
2 cups Kosher salt
2 Tbsp. paprika
1 Tbsp. garlic powder
1 Tbsp. onion powder
1 t. ground black pepper
1 t. ground coriander
1 t. ground ginger
1 t. dry thyme
1 t. dry oregano
1 t. ground juniper
1 t. ground cayenne
1 t. ground allspice
1 t. ground nutmeg
Tips for Barbecuing Ribs:
Remove the membrane (the thin skin on the bone side of the rack) using a blunt knife. You should be able to tear the membrane right off once it's loosened. Cover both sides of the ribs generously with the rub. It's not necessary to marinate the ribs in the dry rub for long, so doing it immediately before grilling will be fine. Lay the ribs bone side down on the grill, and don't use too much heat. Patience is key! You'll want to grill the meat indirectly – imagine your grill split up into four separate quadrants: in the top left quadrant are the ribs, in the bottom left there is a pan to catch the drippings.
In the top right place another pan full of water, and in the bottom right is the fire. (You can modify this setup to fit your grill in the best possible way, just remember – indirect heat). Your ribs will need to cook for several hours at 200-225 degrees F. They'll be done when the meat is tender and loose around the bones. To replicate authentic smoked barbecue flavor on a charcoal or gas grill, you can use water-dampened wood chips added to the charcoal (for a charcoal grill) or in "smoke bombs" (for a gas grill). To make smoke bombs, wrap 1/2 cup damp wood chips in a single layer of tinfoil, poke holes in the foil, and place under the grate you'll use to cook. Turn the heat on the grill hot enough to get the wood chips smoking, then turn the heat down and put your ribs on the grill.
For the Macaroni & Cheese – ingredients:

4 cups garlic minced
1/2 onion minced
1 cup Sauvignon Blanc
1 cup chicken stock
3 cups cream3 sage leaves sliced thinly
1 teaspoon thyme
1 tub Widmer's brick cheese
8 ounces cream cheese
1-2 cups cheddar
METHOD
Add the wine, onion and garlic to a pot and cook on high to reduce by three quarters. Next, add the chicken stock and reduce by half. Add the cream and reduce by half again. Then, add all the herbs. Whisk in the cheese. Finally, toss with cooked pasta and top with bread crumbs.